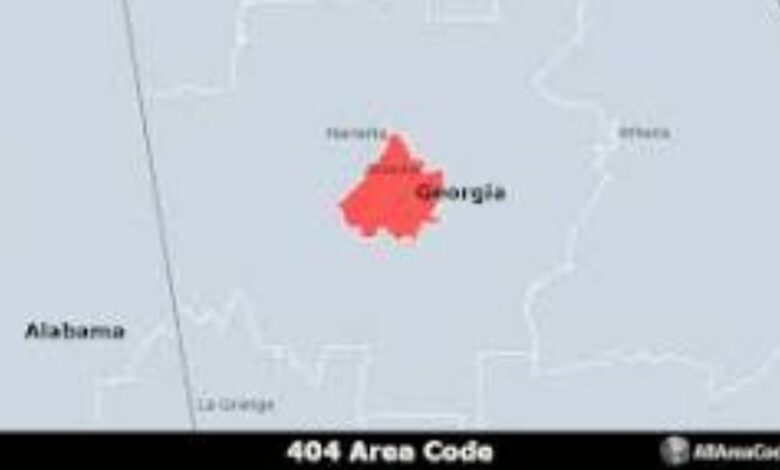 The city of Atlanta, Georgia, is so populous that it has several area codes. One of the most well-known area codes is 404, which serves a large part of the Atlanta metropolitan area in Georgia. Area code 404 location is used in Atlanta, and this article will look at the many neighborhoods inside that code.
What is Area Code 404 Location
Where Is Area Code 404 Located?
The city of Atlanta and its surrounding metropolitan region of more than 5.8 million people are served by the 404 area code in the American state of Georgia. The 404 area code includes all of the inner city and nearby suburbs within the I-285 beltway. Even though it covers a large chunk of Georgia, calls between the other Atlanta area codes (470, 678, 706, 762, and 770) are still considered local and are not subject to long-distance charges or any disruptions in service. Moreover, the 404 area code is in the Eastern time zone because Atlanta is located on the East Coast of the United States.
The 404 area code also includes portions of Fulton, DeKalb, and Clayton counties in the Atlanta metropolitan region. Landlines are available in these counties, whereas mobile phones in nearby Cobb, Douglas, and Gwinnett. They use the 404 area code (which is also shared with the 770 area code). Atlanta, Decatur, Forest Park, Conley, Avondale Estates, and Scottdale are all part of this metropolitan area.
So now that you know where the 404 area code is located. Let's have a look at how Atlanta Virtual Phone Numbers can help your business.
Getting a 404 Area Code Number
Find a qualified telecom service provider who can supply Atlanta Virtual Phone Numbers to connect with customers in the 404 Area Code easily. A company with a virtual phone number might appear to be located in the 404 area code even if it is actually based in another country.
All Atlanta area codes and more are serviced by Global Call Forwarding and other carriers. The fact that the cloud and other Internet technology power virtual phone numbers is perhaps more remarkable than the fact that they can be immediately routed (i.e., VoIP). By incorporating features like "call recording". "simultaneous ringing," "time of day routing," and others, businesses can fortify their underlying business models. Business owners in Ireland. For instance, are well aware that their time zone is five hours ahead of that of the East Coast.
The result is that your business hours will have minimal overlap with those of your Atlanta clientele. Time-of-day routing allows you to route calls that come in outside of normal business hours. To a contact center in a more suitable time zone. Or, if you have fewer people on hand after hours. You may utilize the "simultaneous ringing" feature.  To make sure that someone is always available to take the call by ringing all of the phone numbers linked with the virtual phone number simultaneously. This is sure to be a hit with your customers.
In addition, virtual phone lines look and function the same as traditional ones. So your business abroad may have a credible presence without the expense and hassle of setting up physical branch offices and the like. Virtual offices and locations have made it possible for businesses. To enter and thrive in new markets without incurring the high costs of physically establishing themselves there. On the other hand, virtual phone lines provide the cheapest possible entry to an infinite number of business possibilities.
Even if your company is physically located outside of the 404 area code. You can easily expand your operations.  There with the help of a virtual phone number from a trustworthy service provider like Global Call Forwarding.